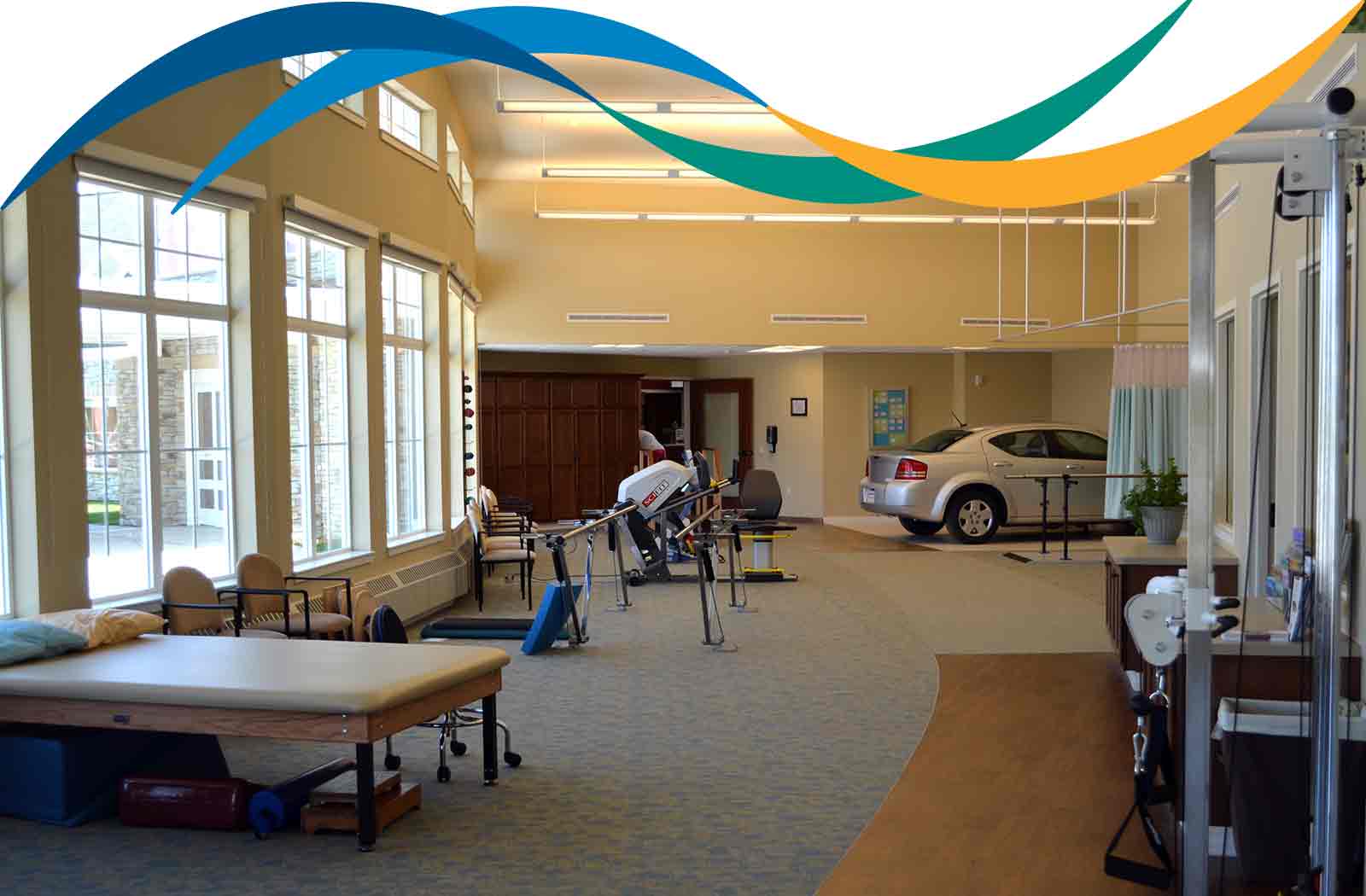 Hickory Hills, our short-term rehabilitation household, provides specialized therapy treatments to individuals in our state of the art gym. We have partnered with Greenfield Rehab to provide our residents with highly trained therapists to meet and exceed your therapy goals on both an inpatient and outpatient basis.
Goal of Greenfield Rehab
Sheboygan Senior Community has partnered with Greenfield Rehab to provide our in-house rehabilitation therapy services. Our therapists work in conjunction with the patient, their family and nursing staff to promote accelerated healing. Each therapy program is individualized to ensure getting you on your feet and back home as safely and quickly as possible.
Greenfield's guiding principle has been that if we put the patient first, create efficient systems and processes for communication, and develop strong relationships with our partners, success will follow. Healthcare continues to evolve and change, and Greenfield Rehab Agency is committed to Leading the Way in Rehabilitation Services to continue to secure our place in the marketplace. There are a lot of choices for therapy services in Wisconsin, but we firmly believe that our history has proven our value and we will continue to Lead the Way in Rehabilitation Services for years to come.
Residency Features
Single, private rooms
Private bathroom with walk-in shower
Reclining chair
Wardrobe and dresser
Nightstand with locking drawer
Bathroom with walk-in shower
TV with cable
Phone with unique room number
Individually controlled heating and air conditioning
Specialty Diets
At Sheboygan Senior Community, we offer many different diets for our residents including: vegetarian, gluten-free, cardiac care, low cholesterol, low carb, sodium restricted, diabetic and texture modified diets. Meals are served with multiple options per course. Residents can select their soup (regular and low sodium), salad (fruit, apple sauce, tossed salad), entrée (sandwich, meat or pasta), starch (mashed potatoes or small pasta side) and vegetable (hot or cold). Our menu is ever-changing. Different options are added depending on what is in season. Come for the care, stay for the food!
Household Features
Entire facility is on one floor
Located right across the hall from the rehab gym
Living room with fireplace
Kitchen and dining area
Private dining room
Customized menus for each meal with multiple options
Den and various sitting areas
Outdoor, enclosed courtyard
Spa with whirlpool tub and fireplace
Laundry room
Cable and WiFi
Treatment Plans and Programs
Sheboygan Senior Community offers treatment plans and programs for the following conditions:
Urinary incontinence
Pain management
Balance and falls management
Lymphedema (swelling in arms and/or legs)
Kinesiotaping (used to modify muscle tone, move lymphatic fluids, correct movement patterns, and improve posture)
Cognition-abilities focused model
Wheelchair positioning
Pulmonary
Low vision
Wound care management
Neurological rehab
Splinting/contracture management
Dysphagia/swallowing
Communication/aphasia (stroke or head trauma communication difficulties)
Home medication education
Orthopedic